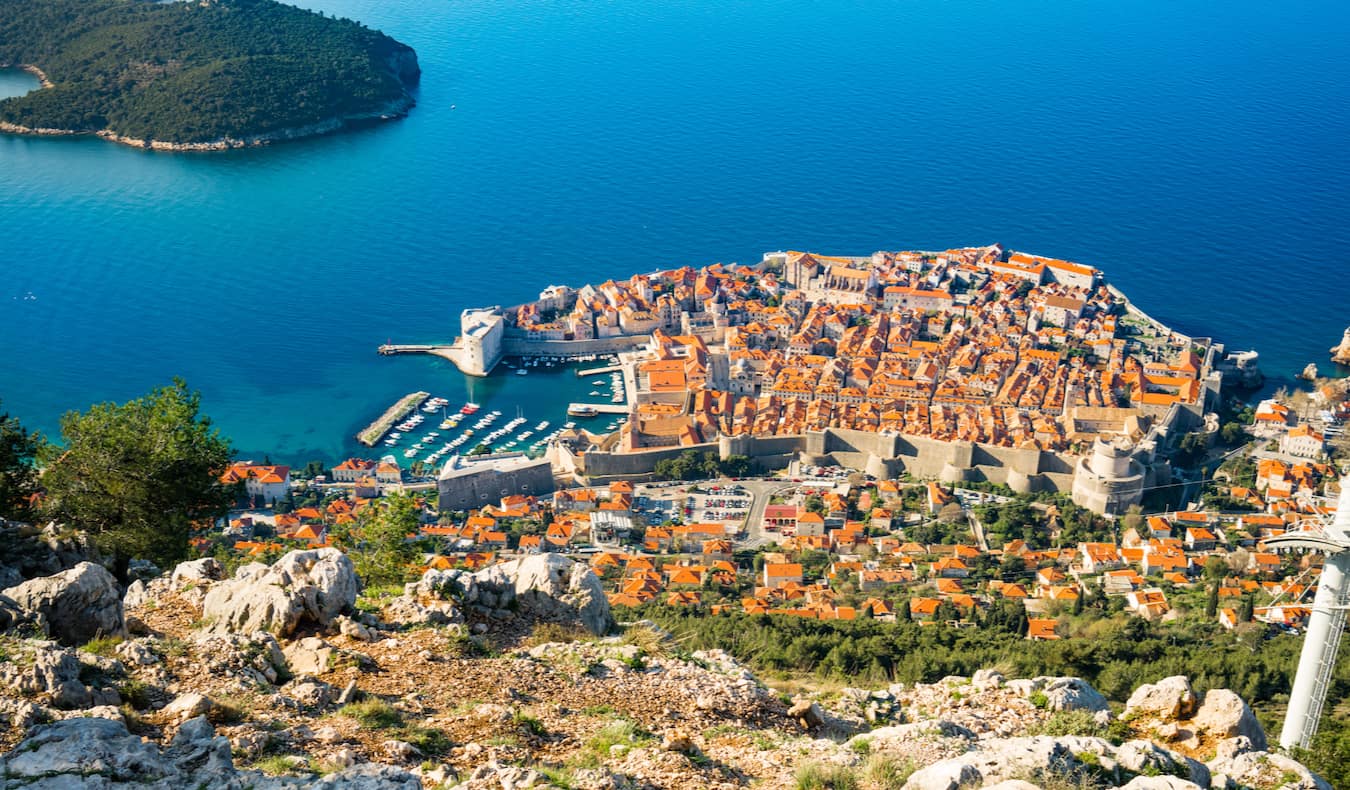 Where to Stay in Dubrovnik: The Best Neighborhoods for Your Visit
February 9, 2023
Posted: 2/8/2023 | February 8th, 2023
Dubrovnik is the most popular city in Croatia. Famed for its historic and well-preserved Old Town (and as a filming location for Game of Thrones), this picturesque city of 40,000 inhabitants swells with tourists from May to early October, thanks to a growing number of cruise ships that dock here.
The vast majority of visitors, however, tend to stick to a few areas. That means that choosing the right neighborhood is more important here than in many other destinations, as it will drastically impact your experience.
To help you decide where to stay in Dubrovnik, I'll highlight the best neighborhoods, so you can choose the area that most suits your travel style and budget.
But, before I get to the specifics, here are some common questions I get asked about Dubrovnik neighborhoods:
What's the best neighborhood for foodies?
If you arrive in Dubrovnik by bus or boat, your first step will be in Gruž (pronounced "Groozh"), which lately has acquired a lot of great eating options.
What's the best neighborhood for families?
Lapad is only a 10-minute bus ride to Old Town and has a lovely family-friendly beach.
What's the best neighborhood for partying?
Pile (pronounced "Pee-lay") is a warren of narrow streets that is perfectly positioned to take advantage of the many bars in and around Old Town, which is just to the east.
What's the best neighborhood for feeling like a local?
You won't see this neighborhood on many other lists. About a 15-minute walk from Old Town, Montovjerna is a quiet area with a lot of bars and restaurants frequented by locals.
What's the best neighborhood overall?
While bustling and crowded, Stari Grad (Old Town) is where all the action is.
With those questions now answered, here is a more specific breakdown of each neighborhood — with suggested accommodation, so you'll know where to stay in Dubrovnik:
Where to Stay in Dubrovnik for Foodies: Gruž
There once was a time when there was nothing particularly spectacular about Gruž. But in the last five or so years, the neighborhood has evolved into a great place to eat. In addition to being home to the main outdoor food market, there are a handful of terrific restaurants that make Gruž the destination for those of you who let your stomach and taste buds dictate your itinerary.
The city's only brewery, the Dubrovnik Beer Company, is in Gruž, and it has a lovely tap room for sampling the beers. When you get hungry, stop into Glorijet, Amfora, and Kiosk. (The newish Red History Museum, about life in the former Yugoslavia, is also in Gruž.)
Best Places to Stay in Gruž:
BUDGET: Free Bird – One of the city's newest hostels, Free Bird has a chill common area with a large TV and a kitchenette (no stove though). Overall, it's a pretty basic hostel, but it's very modern and clean, the staff are great, and the views from the terrace are fantastic. There are female-only rooms as well.
MID-RANGE: Hotel Adria – Most rooms at this comfortable hotel have balconies that look out over the marina. All rooms have big, comfy mattresses and air conditioning. If you have a car, use of the hotel's parking garage is complimentary.
LUXURY: Berkeley Hotel & Spa – Smack in the heart of Gruž, Berkeley is the only luxury hotel in the neighborhood. It has spacious guest rooms, some of which have balconies overlooking the marina, as well as an outdoor pool, a bar, and a fully equipped spa.
Where to Stay in Dubrovnik for Families: Lapad
About 10 or so minutes on the bus from/to Old Town, Lapad offers a mix of locals and tourists. Located on a peninsula, residents love to hang out on the long pedestrian promenade, where a nonstop line of restaurants and cafés line the way to the beach. Visitors, particularly families, enjoy the tranquil beach on the cove, where the minimal waves make for an ideal spot for kids to swim. You'll find far fewer crowds here too.
Best Places to Stay in Lapad:
BUDGET: Dubrovnik Backpackers Club – Located just over the Lapad border in Babin Kuk, Dubrovnik Backpackers Club is the most affordable option in the area. The rooms include a few four-person mixed dorms and a couple of two-person private rooms with en suite bathrooms and showers. The large kitchen is perfect for cooking your own meals, and there's also a terrace with a lovely view over the neighborhood.
MID-RANGE: Art Hotel – Just a two-minute stroll to the main beach in Lapad, Art Hotel is a nicely priced accommodation with a lot of comfort and style. The rooms have balconies, some of them with nice views, and also air conditioning, large flat-screen TVs, and minibars.
LUXURY: Royal Palm Hotel – This is one of the more affordable luxury options in town. The hotel has large guest rooms with ocean vistas and a great terrace restaurant for even more views of the Adriatic Sea. There's a relaxing spa on-site as well.
Where to stay in Dubrovnik for Partying: Pile
Pile, just outside of Pile Gate (one of three ways in and out of Old Town), is a neighborhood of narrow winding streets between the historic center and the medieval Fort Lovrijenac and Gradac Park. It isn't necessarily rife with party spots, but it's not in the Airbnb-centric Old Town and it's within walking (read: stumbling) distance of the walled Stari Grad should you be inclined to spend the nights imbibing.
Best Places to Stay in Pile:
BUDGET: Villa Garden Hostel – Located near Gradac Park, Villa Garden Hostel is made up of a collection of private rooms, each of which has either one or two single beds. The property has a fun, active common room and a lovely terrace to take in the Adriatic breezes.
MID-RANGE: B&B Villa Dubrovnik Garden – This B&B is located up on the hill overlooking Old Town and the Adriatic Sea. The six rooms are nicely appointed, with huge beds and lovely views. The staff are excellent and can help you plan your trip and book excursions too.
LUXURY: Hilton Imperial Dubrovnik – Part of one of the few big international hotel chains (run by Hilton) in Dubrovnik, the Imperial is actually a historic property. It's perfectly positioned just outside of Old Town's Pile Gate and has a lovely lobby bar and plus-sized rooms with extra-large, comfortable beds.
Where to Stay in Dubrovnik to Feel Like a Local: Montovjerna
The main drag of this neighborhood is ulica bana Josipa Jelacica, which means nothing to tourists, but to locals, it is — or at least, was — a party street, lined with bars. It even gained the moniker "Bourbon Street" (after the infamous party street in New Orleans). Today it's much tamer, but it's still a good place to grab coffee or an evening drink at the handful of pubs on the street if you want to hang out where residents go.
The street is also home to one of the best eating options in town: Marija's House, where chef Marija Papak cooks incredible local fare on the covered terrace of her home.
Best Places to Stay in Montovjerna:
BUDGET: Vila Marija – Just a 15-minute walk from/to Old Town, this guesthouse offers private rooms as well as entire studio apartments with their own kitchens. There's a lovely terrace outside and the host is extremely kind and welcoming.
MID-RANGE: Hotel Lero – This is a long, rectangular, multifloor property with an inviting courtyard pool and rooms that overlook the Adriatic Sea. The rooms have air conditioning, plush robes, coffeemakers, satellite televisions, and large wardrobes.
LUXURY: Hotel More – This cliffside hotel is right on the water. The 72 rooms and eight suites all have balconies that face the shimmering Adriatic. As a bonus, the hotel boasts the most unique bar in the city, if not all of Croatia: the Cave Bar More, which, as the name suggests, is set in an actual cave right on the water.
The Best Overall Neighborhood in Dubrovnik: Stari Grad
Stari Grad, or Old Town, is the main draw in Dubrovnik and the chief reason why millions of people visit. If you come during peak season, expect the limestone-blanketed streets to feel like a sidewalk in Times Square, as the foot traffic causes serious congestion. That said, this is the reason you came here and probably the place where you might be spending much of your time.
There are some decent restaurants in Old Town. But despite the numerous pizzerias here, steer clear of pizza at all costs; you'll be disappointed.
Also, avoid the restaurant-lined street Prijeko ulica, which locals have nicknamed "Banditenstrasse," because it's the street where tourists go to get ripped off by bad food and bad restaurants (that have a history of scamming tourists).
Instead, just enjoy staying in Old Town, taking in the medieval ambiance of the place as you wander the narrow streets.
Best Places to Stay in Stari Grad:
BUDGET: City Walls Hostel – This three-floor, award-winning property has a spacious common room and a small but fully equipped kitchen and a basic free breakfast every morning. There's also coffee and tea available in the kitchen throughout the day.
MID-RANGE: La Vita e Bella II – This collection of elegant rooms is located in a 13th-century home in the heart of the Old Town. All units have air conditioning, flat screen TVs, and excellent amenities, including small touches like Bose speakers and robes/slippers.
LUXURY: St. Joseph's Hotel – Housed in a 16th-century building, St. Joseph's is one of a few hotels located within the walls. And it's a nice one! The six rooms have small kitchens, rain showers (some also have massive bathtubs), and enough space to make you want to stay awhile. The staff is particularly friendly too.
You May Also Like
January 18, 2023
November 16, 2022