The provisional race calendar for the 2021 FIA
Formula 1 World Championship has been published before being submitted to the World Motor
Sport Council for approval.
The 2021 season follows an unprecedented year for
Formula 1 in which the ongoing COVID19 pandemic resulted in a
revised 2020 calendar of 17 races and the first international
sport to resume its season.
Whilst Saudi Arabia has been added to the calendar
for the first time, Vietnam is not listed. Hanoi was scheduled
to host Vietnam's first ever F1 race in April of this year but
that race was postponed until 2021 because of COVID19. F1 has not
yet made an official statement about why Vietnam is not included
in the 2021 calendar.
Chase Carey, Chairman and CEO of Formula 1, said, "We are pleased to announce the 2021 Formula 1 provisional
calendar after extensive conversations with our promoters, the
teams and the FIA. We are planning for 2021 events with fans that
provide an experience close to normal and expect our agreements to
be honoured. We have proven that we can safely travel and operate
our races and our promoters increasingly recognise the need to
move forward and manage the virus. In fact, many hosts actually
want to use our event as a platform to show the world they are moving forward. We are delighted to see Saudi Arabia become part
of the schedule and are equally excited to return to the venues we
hoped to race at in 2020. We want to thank all our promoters and
partners for their ongoing enthusiasm and collaboration and look
forward to giving our fans an exciting season on the track."
The 2021 FIA Formula 1 World Championship begins
in Australia on 18-21 March and ends in Abu Dhabi on 5 December.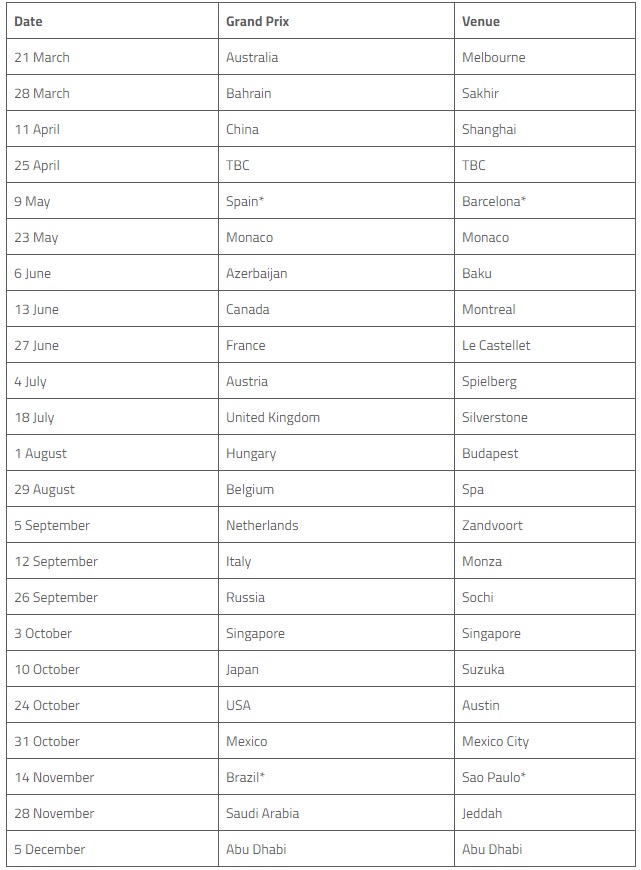 See latest

Travel News,
Video
Interviews,
Podcasts
and other
news regarding:

COVID19,

F1,

Sport Tourism.