(16 Dec 2020)
The Londoner Macao, Sands China's
British-themed reimagining of the Sands Cotai Central integrated
resort, will open progressively throughout 2021.
Representing an investment
of approximately US$2 billion (MOP 16 billion), The Londoner Macao
will feature two new all-suite
hotels, a large variety of dining and retail experiences, MICE space
which includes
a 6,000-seat arena, themed entertainment and attractions.
As part
of the first phase, Sands China will open The
Londoner Hotel, the spectacular Crystal Palace atrium, new
dining options and interactive London-themed attractions in Q1
2021. The official ceremony will be held in early February 2021.
Robert Goldstein, President and Chief Operating
Officer of Sands China's majority shareholder, Las Vegas
Sands, said, "Our investment in The Londoner Macao is a clear
signal that we believe Macao's future as one of the world's most
important leisure and business destinations remains on course.
With spectacular London-themed accommodation, dining, shopping,
entertainment and landmarks, The Londoner Macao will offer our guests another new and exciting experience while further
illustrating our commitment to Macao and the expansion of its
tourism offerings."
The Londoner Macao also represents the
latest collaboration with Sands Resorts Macao global ambassador
David Beckham. The international businessman and British icon
played a central role in the promotion of the integrated resort
leading up to its opening with his participation in the
eye-catching campaign 'Bringing The Best of London to Macao'.
The partnership took on even greater significance when
he worked with leading London interior design firm David Collins
Studio to create the exclusive Suites by David Beckham, Macao's
first celebrity-designed suites, and Mr. Beckham's first globally.
David Beckham said, "I am so excited for the
launch of the first phase of The Londoner Macao and I hope guests
will enjoy the London elements that are close to me. It has been
amazing working with the Sands team to create the first-ever
Suites by David Beckham, a project that brings together my passion
for interior design with everything I love about London. These
suites will present a unique experience, enhanced with personal
touches from my life. We hope the Suites by David Beckham will
bring guests a luxury stay while they enjoy everything The
Londoner Macao has to offer."
 The Londoner Macao
incorporates five hotel brands with over 6,000
guestrooms: the two new all-suite hotels The Londoner Hotel and
Londoner Court (opening later in 2021), alongside existing
properties Conrad Macao, Sheraton Grand Macao and The St. Regis
Macao.
The Londoner Hotel
The Londoner Hotel
is an all-suite tower with interiors by Hong Kong-based Steve
Leung Design Group. The hotel features approximately 600 suites: the 75 square metre Louis Suites and Victoria Suites and
113 square metre Windsor Suites.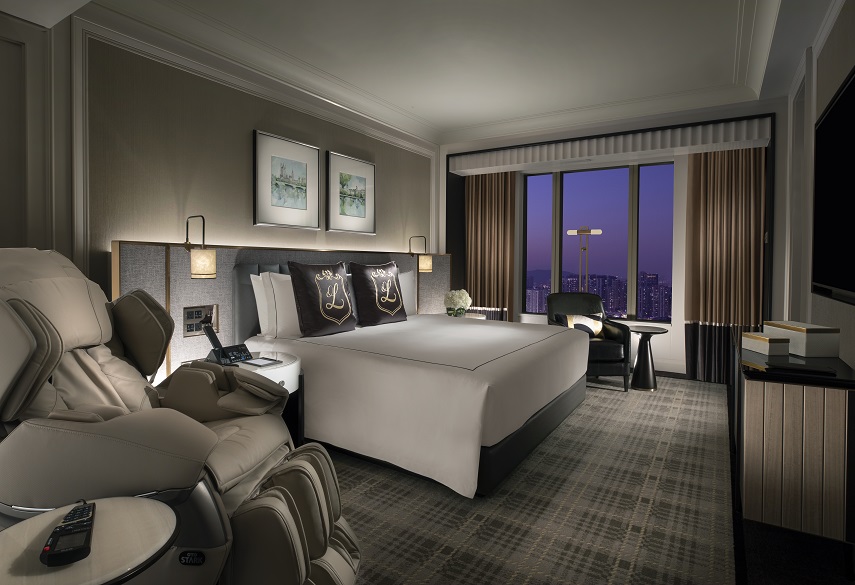 The Londoner
Hotel's top two floors incorporate 14 exclusive Suites by David
Beckham which will be launched later in 2021 and range in size from 113 to 298 square metres.
The
Residence, the hotel's large and impressive club lounge, serves an international buffet breakfast with signature
dim sum, light refreshments including afternoon tea, all-day
snacks and drinks and evening cocktails.
To celebrate its opening, The Londoner Hotel has
different promotions available for stays starting from 22 January
2021.
Dr. Wilfred Wong, President of Sands China, said,
"Sands China has a successful track record of creating themed
properties in Macao, and The Londoner Macao joins The Venetian
Macao and The Parisian Macao as Asia's top destinations for both
the leisure and MICE markets. London is an iconic city and we
anticipate this addition will further raise the profile of Macao
while increasing the number of visitors as our other flagship
properties have done."
See latest

Travel Industry News,
Video
Interviews,
Podcasts
and other
news regarding:

COVID19,

Macau,

Macao,

Sands,

Londoner.